Welcome to Brentwood Animal Hospital, your local veterinarian in Brentwood, Missouri.
Established in 1965, we're pleased to provide a wide variety of veterinary services for animals in Brentwood and surrounding areas.
Our facility is equipped with the latest equipment, which helps our doctors diagnose and treat most problems as quickly as possible. We also maintain excellent relationships with nearby specialists should your pet need a referral for specialized care.
Our emphasis is on disease prevention, which includes client education, preventative medications, vaccinations, and annual physical, and dental exams. We offer a broad range of medical, surgical, and dental services. Also, we carry Hills, Purina, and Royal Canin prescription diet foods and a complete line of flea and tick products, shampoos, and vitamins for your pets' home health protection.
If you have an after-hours emergency, please call Veterinary Specialty Services or the St. Louis Animal Emergency Clinic.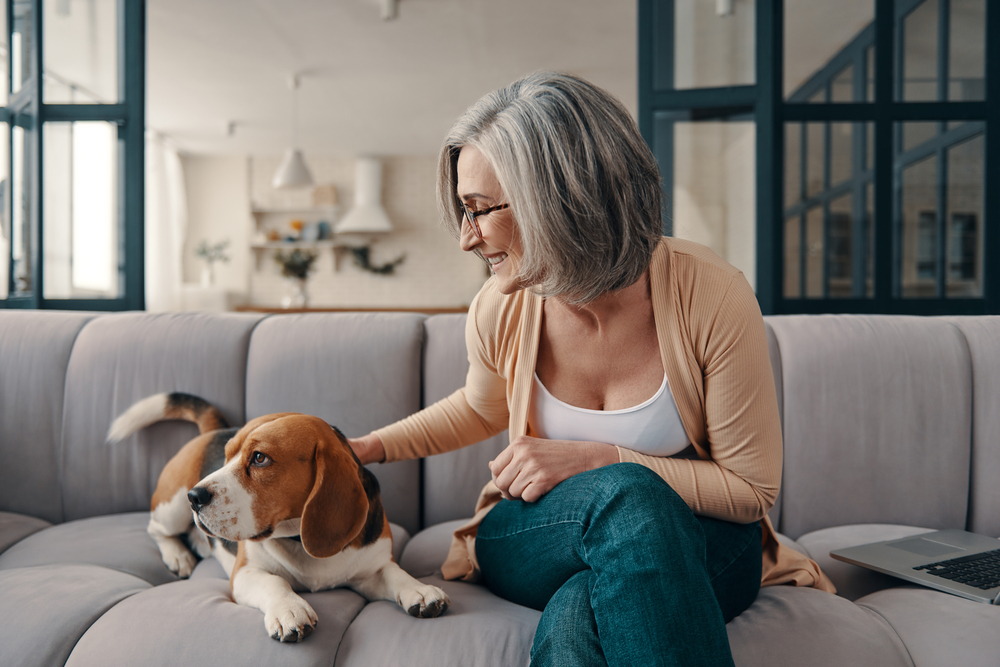 Dr. Boyd Ervin is a 2017 graduate of the UC Davis School of Veterinary Medicine. Prior to veterinary school, he received a Bachelor of Science in Anthropology from UCLA. Dr. Ervin's experience with animals stretches back to when he grew up in Omaha, Nebraska, where he helped his father care for livestock at the Boys Town Farm. At home, he welcomed a variety of other creatures into the family, including cats, chickens, rabbits, turtles, and frogs, to name a few.
Since 2009, Dr. Ervin has worked at all levels of veterinary practice, starting as a volunteer in a small animal clinic. Since then he has held positions as a veterinary assistant, receptionist, and technician, all of which he feels have made him a more well-rounded veterinarian. Dr. Ervin enjoys the variety of work involved in general practice medicine and appreciates the opportunity to get to know and care for his patients whether they are in need of medical treatment or a routine check-up.
Dr. Ervin and his fiancée Rachel relocated from San Diego to St. Louis in 2022, after Rachel accepted a job as a veterinarian at the Saint Louis Zoo. They currently share their home with one cat named Jiji, and two chinchillas named Pichu and Momo. As the former lead guitarist in a heavy metal band in Los Angeles, Dr. Ervin continues to hone his skills at home, but hopes to one day take to the stage again in his spare time!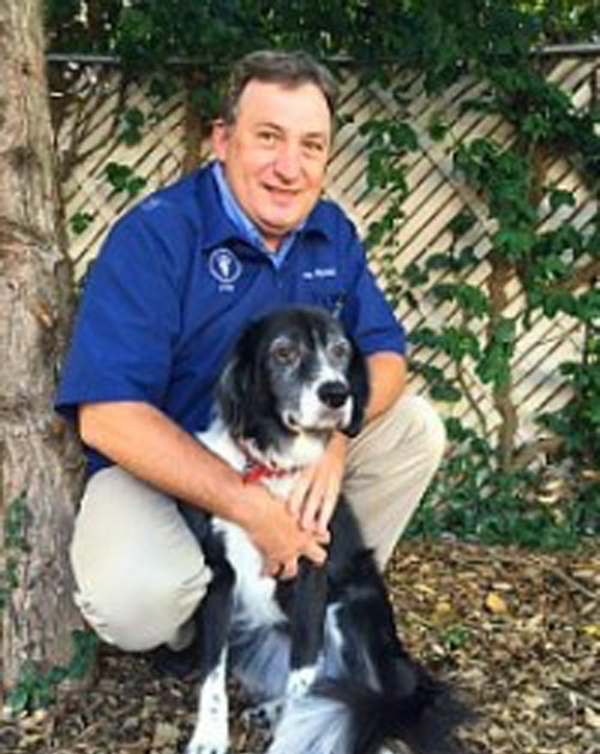 Originally from St. Louis, Dr. Ryterski graduated cum laude in 1983 from the University of Missouri College of Veterinary Medicine. After graduation, he worked two years in a rural practice in Southern Illinois before relocating back to St. Louis where he began work at our affiliated practice Grantview Animal Hospital. In 1989, Dr. Ryterski moved to Brentwood Animal Hospital to manage operations upon the retirement of founder, Dr. Tom Shore.
Dr. Ryterski professional interests include orthopedic and soft tissue surgery, dermatology, and internal medicine. He is a member of the American Veterinary Medical Association, Missouri Veterinary Medical Association, Greater St. Louis Veterinary Medical Association, American Animal Hospital Association, and Phi Zeta Veterinary Honor Society and was chosen as one of St. Louis' Top Veterinarians by St. Louis Magazine (December 2010).
Dr. Ryterski is married to Dr. Sherry Headrick, who practiced Veterinary Rehabilitation and Acupuncture at Brentwood Animal Hospital. They have two children, Bob and Claire. The furry members of the Ryterski household consist of one dog, Peanut, and two cats, Cookie and Remy. As of February 1, 2021, Dr. Ryterski performs surgical procedures two days per week, but no longer sees routine appointments. He is looking forward to having additional free time to enjoy the outdoors, fish, and collect and restore antique farm tractors.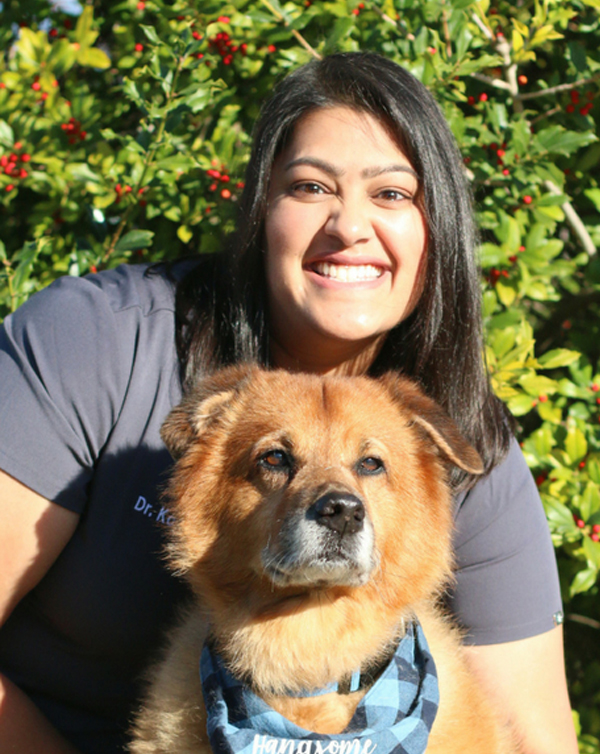 Dr. Praveena Kolli joined the Brentwood Animal Hospital in 2017. A graduate of the University of Missouri College of Veterinary Medicine, Dr. Kolli initially worked in a mixed animal practice in Farmington after graduation.
Dr. Kolli's professional interests are dermatology, soft tissue surgery, physical rehabilitation and all aspects of small animal medicine. She is a member of the AVMA, MVMA, GSLVMA and Mizzou Alumni Association.
She is originally from O'Fallon, IL. In her spare time, Dr. Kolli enjoys hiking, cheering on the St. Louis Cardinals and Mizzou tigers, spending time with friends and family, and trying new restaurants (especially for brunch!).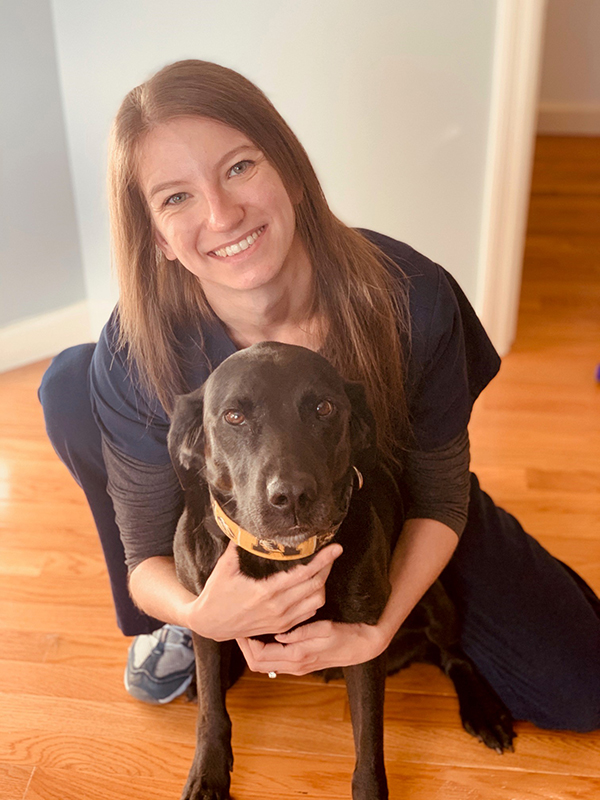 Dr. Rogers, formerly Dr. Fridman was born in 1989 in Gomel, Belarus and came to St. Louis in 1996. She went to vet school at the University of Missouri in Columbia, graduating in 2014.
She gained valuable experience working in the St. Louis area of both Illinois and Missouri before joining the Brentwood Animal Hospital team at the beginning of 2019. She is passionate about preventative medicine and client education with a goal of helping pets live their longest and happiest lives. She is Fear Free Certified and a member of both AVMA and MVMA.
She lives with her husband Corey and a black lab mix named Apollo. Dr. Rogers is a homebody who loves reading and relaxing at home, but also enjoys outdoor activities such as fishing, hiking and kayaking, as well as enjoying the great food scene of St. Louis with her husband and friends.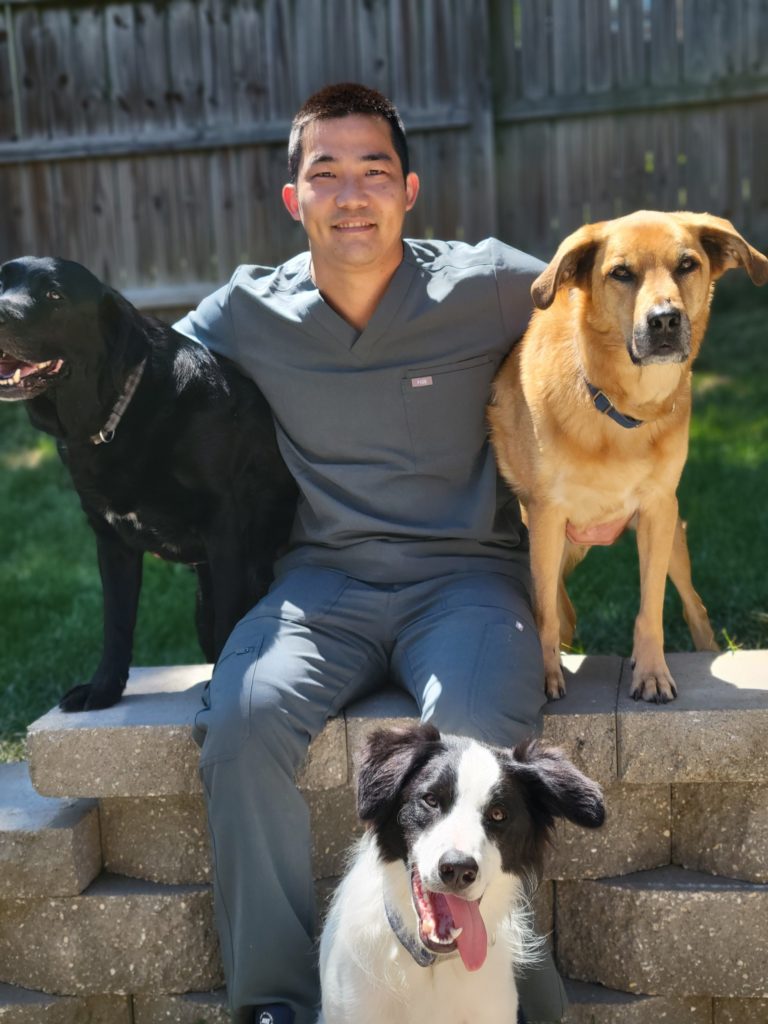 Dr. Muraoka hails from Kaneohe, Hawaii. He attended the University of Hawaii at Hilo for his undergraduate studies, followed by Purdue University in Indiana for veterinary school. Prior to starting at Brentwood Animal Hospital in 2022, he worked as a small animal veterinarian in the St. Louis area.
Dr. Muraoka's professional interests include neurology, soft tissue surgery, dentistry, and ophthalmology. He is a member of the American Veterinary Medical Association.
Dr. Muraoka currently lives in Columbia, MO with his fiancée and their three dogs, Quincy, Scout, and Archie. In his free time, Dr. Muraoka enjoys reading, hiking, fishing, spending time at the gym, and playing recreational soccer.
Dr. Caryn Meyer graduated from the University of Missouri-Columbia school of veterinary medicine in 2002 and has been practicing in the St Louis area ever since.
Dr. Meyer's professional interests include preventative medicine and working closely with pet parents to individualize care for each patient. She is fear-free certified and a member of the MVMA and the AVMA.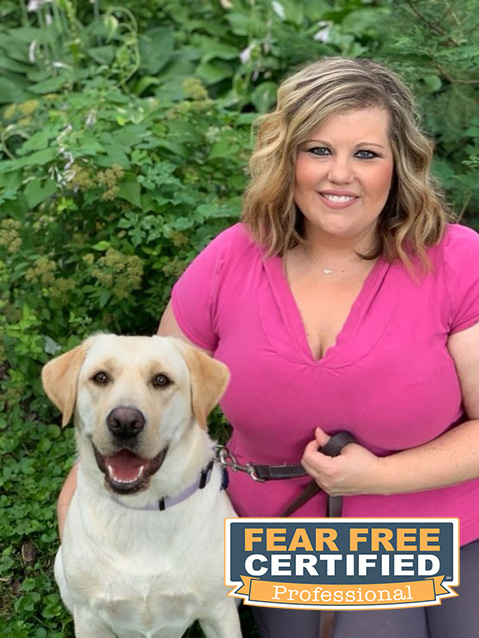 Laura joined Brentwood Animal Hospital in 1997 while still in high school through a community campus program. Through years of experience, she has become a vital part of our staff. Laura was a committed surgical technician with a special interest in dental health and after 24 years of dedicated care to our clients and their pets, Laura is now the Practice Manager of Brentwood Animal Hospital. She works hard to ensure our clients, pets and staff have an invaluable experience while working towards our team's goal of exceptional care.
Laura currently resides with her daughter, Annabelle, her dogs Nellie and Sage, and two cats, Klein and Captain. In her free time, Laura enjoys spending time with her daughter exploring the great outdoors. She also loves doing DIY projects around her home.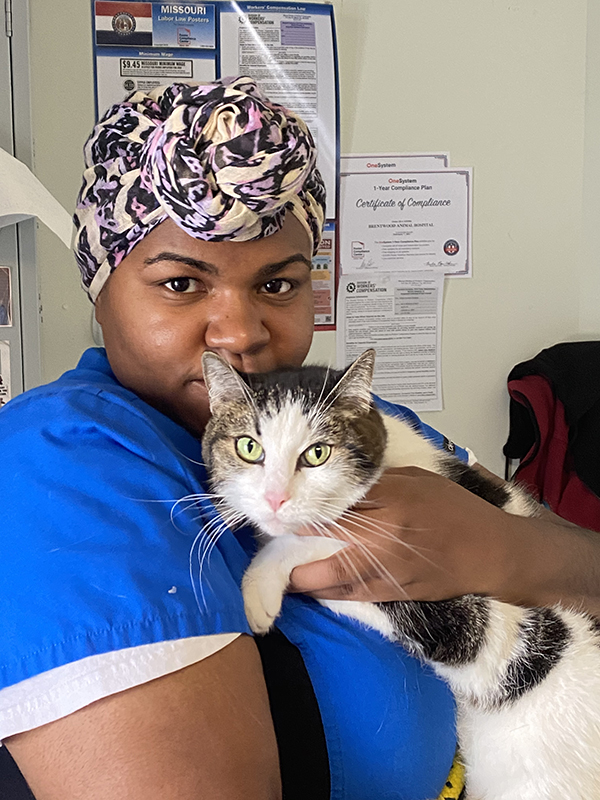 Meet Alex! She became a member of the Brentwood family in 2018. Alex attended the Vet Tech Institute at Hickey College, graduating in 2012. She shares her home with two cats Jorge and Freeway. In her free time, Alex enjoys cooking and baking, traveling, going to concerts, and K-pop!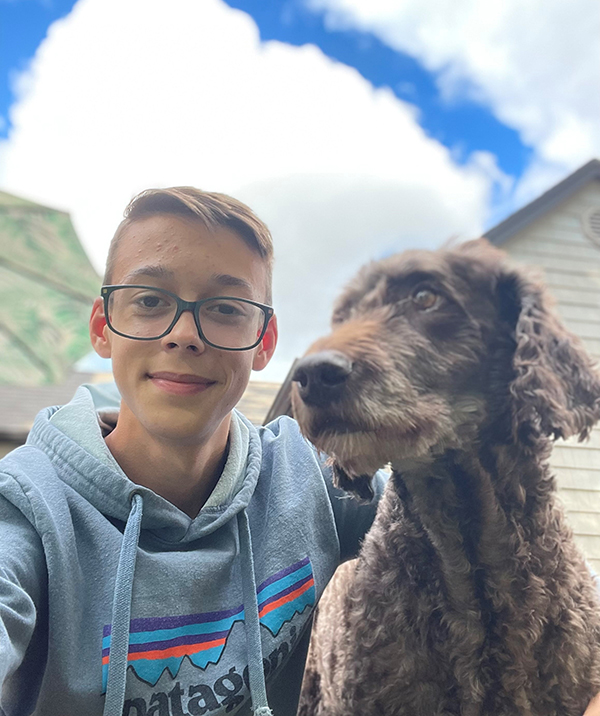 Art joined Brentwood Animal Hospital in the summer of 2021 and is a junior in high school who enjoys working with animals. His favorite thing to do at work is to talk with the owners of pets and to get to know them. Art has an older sister and brother and lives in Webster Groves with his mom, dad, and dog, Dorrie.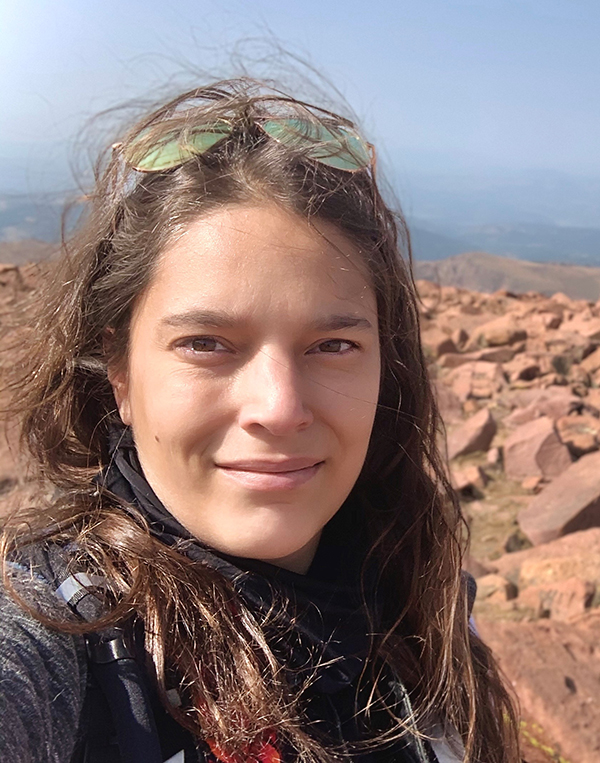 Jo has worked in retail Customer Service for over 10 years when she decided to pursue her dream of working with animals as a career. This was achieved by volunteering at various animal shelters, raptor rehabilitation, and even as a Registrar for a dog breed registry. Now she gets to enjoy helping patients and seeing their progress as they grow and recover from any injuries or illnesses, and also enjoys learning more in veterinary medicine. Jo's hobbies outside of work include photography, drawing, and video games. When not engaging in those hobbies, she enjoys her free time with her two Tamaskan Dogs and her Ball Python.
Leah graduated from the Vet Tech program at Jefferson College in 2019. She loves running lab work, and has a dog named Kiwi, two cats named Curry and Grimm, four rats named Luna, Cheddar, Poppy and Tomago, and a snake named Crush. In her free time, she enjoys hiking, embroidering, sewing, and painting.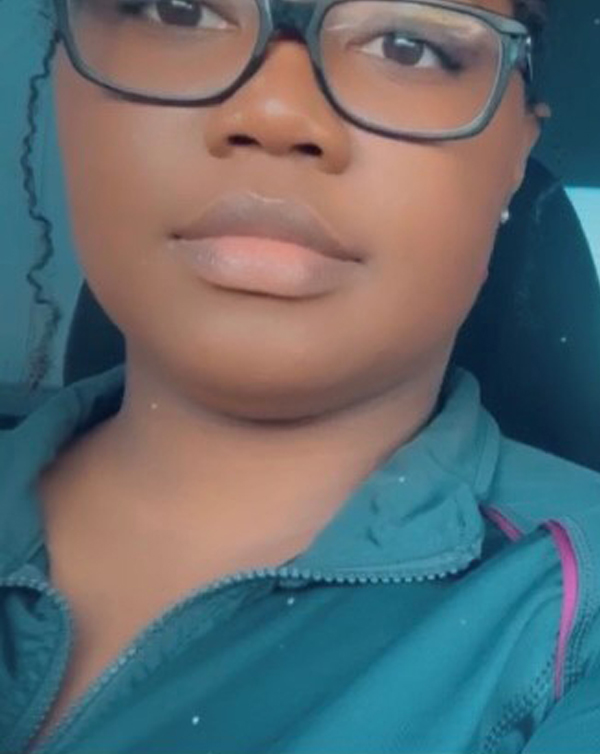 Shana joined the Brentwood Animal Hospital team in 2017. She completed her veterinary technician training at Vatterott College. She has a special interest in surgical procedures and care. Shana has 2 dogs, Ausha and Wade. Her favorite animals are koalas and she loves to do anything art related.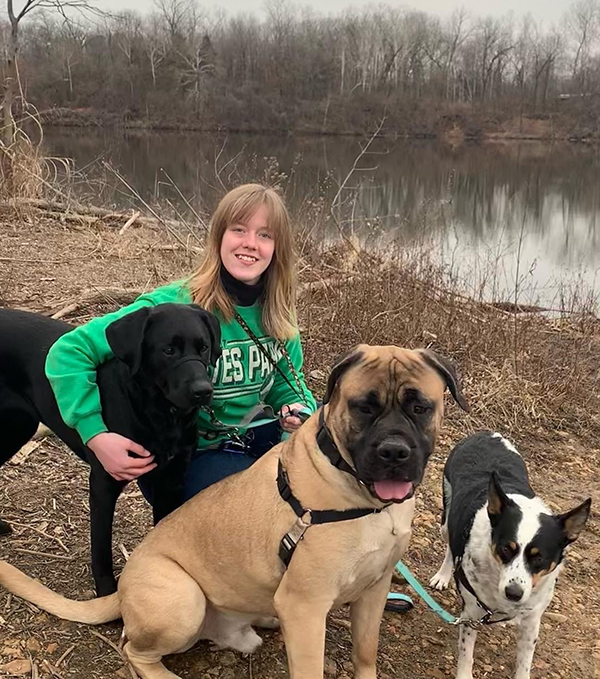 Stephanie is a Senior studying Biology at the University of Missouri-Saint Louis, she has been working in the veterinary field for 4 years. Her favorite part of working in the field is aiding clients in better medical education by helping them decide on the best preventative medicine. In her off time, when she is not working on homework, she likes to take her dogs on hikes and engage in environmental sustainability activities!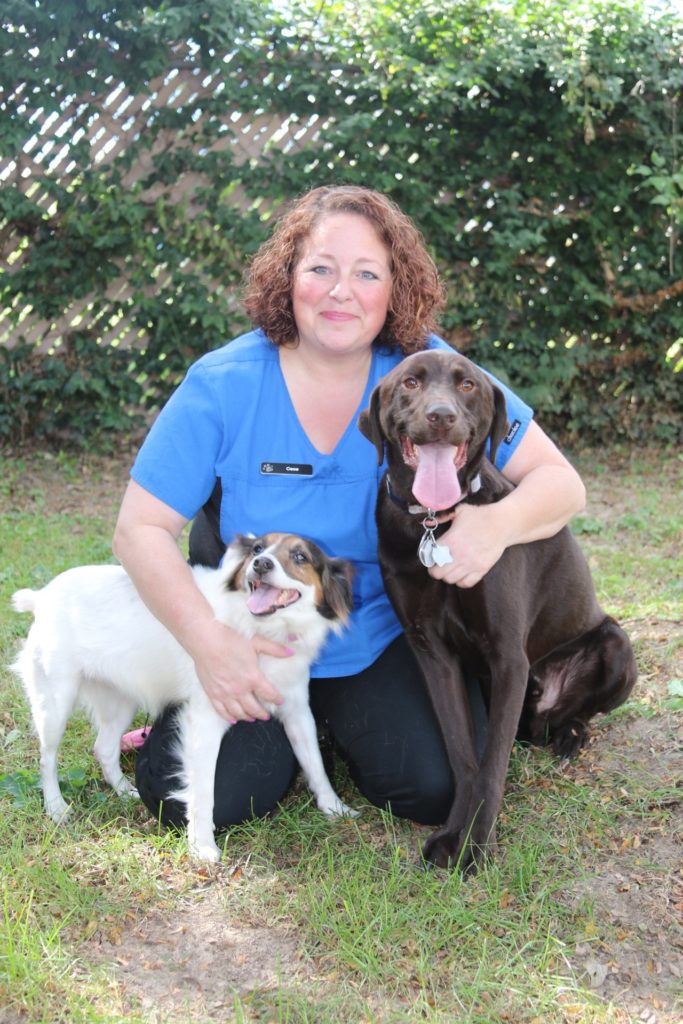 Cece has been with Brentwood Animal Hospital since October 2013. She has loved and had pets her entire life. She also loves photography, finding dead relatives (genealogy), good beer, flowers, and any combination of the above. She currently lives with two of her three boys, along with their dog Hershey, and three cats: Shadow, Vader, and Ackbar.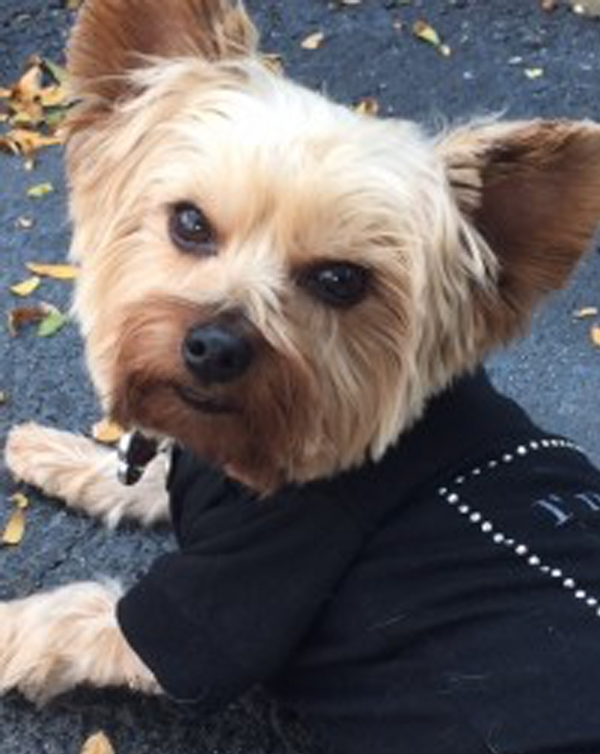 Lori started with Brentwood Animal Hospital in February, 2000. She is devoted to the care and compassion of pets and their owners. She has worked as both a technical assistant and as a receptionist. She has tremendous knowledge and experience in all area of the hospital.
Lori lives with her husband and her canine and feline furry friends.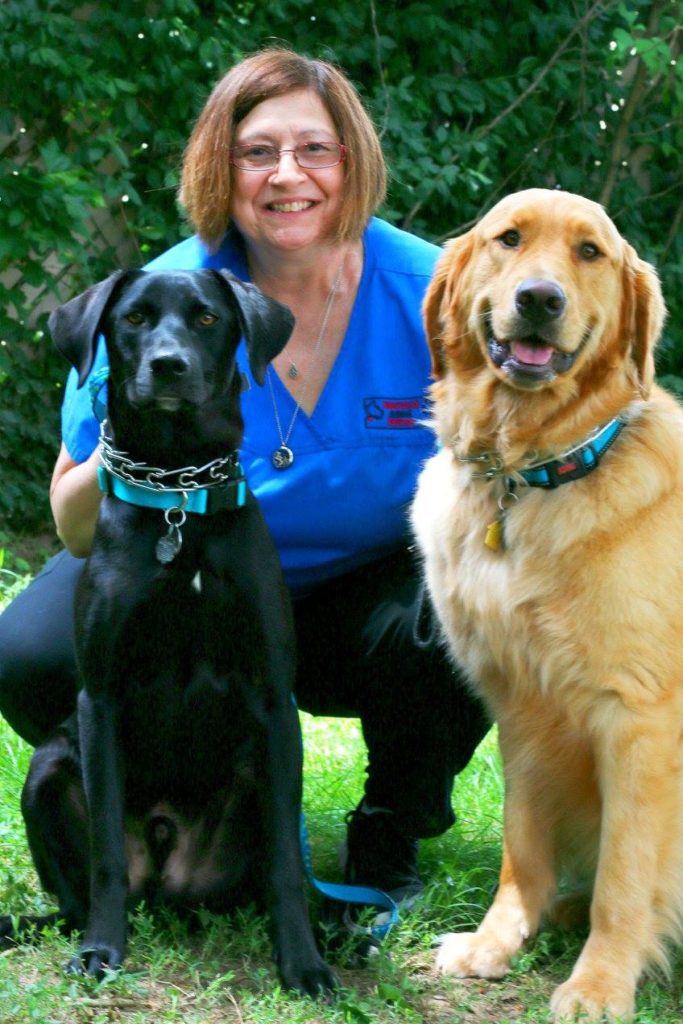 Marilyn has always had a love for animals. She spent 16 years managing pet stores in the local area. In 1993, she joined Brentwood Animal Hospital and found her calling.
Marilyn has true compassion for our patients and their owner. Marilyn currently resides with her two dogs, Bronson and Bowie, and two feline friends Oliver and Stella.