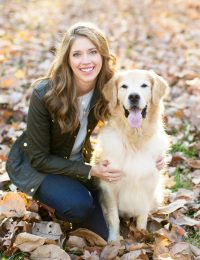 Dr. Cara Cosgrove joined Brentwood Animal Hospital in 2018. She is from St. Louis and grew up in Chesterfield. After receiving a Bachelor of Science degree in Animal Sciences from the University of Missouri, she went on to earn her Doctorate in Veterinary Medicine from Ross University School of Veterinary Medicine and completed her clinical training at the University of Illinois College of Veterinary Medicine before graduating in 2013. Prior to joining the Brentwood team, she worked as an emergency veterinarian at a specialty hospital in St. Louis.
Throughout her life, Dr. Cosgrove has always loved animals and medicine, and realized from a young age that her calling was to be a veterinarian. Dr. Cosgrove has worked in veterinary hospitals since high school. She is a member of the American Veterinary Medical Association, Missouri Veterinary Medical Association, and the St. Louis Veterinary Medical Association. She is a Certified Fear Free Practitioner and has been nominated this year in St. Louis Magazine's A-List Awards for Best Veterinarian. Her areas of interest include client education, ultrasonography, pain management and emergency medicine. As a veterinarian, her goal is to ensure your pets live long and healthy lives, and to provide lifelong compassionate care for them.
Outside of the profession, Dr. Cosgrove and her husband Pete have a young son and will be welcoming a daughter in late 2020. She enjoys spending time outdoors, running, brunching, traveling, horseback riding, and cheering for St. Louis sports teams and the Missouri Tigers! Throughout her life, Dr. Cosgrove has owned many golden retrievers, cats and pocket pets, including a chinchilla.