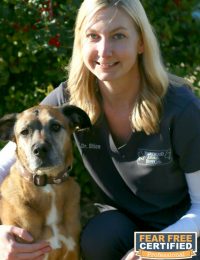 Dr. Heather Stice graduated from veterinary school at the University of Illinois in 2010. Becoming a veterinarian was a lifelong dream of hers, and she has worked with animals since she was a teenager. She is inspired every day to learn and grow in order to provide the best care possible for her patients.
Her professional interests include dermatology, pain management, and the human-animal bond.
Dr. Stice is a member of the American Veterinary Medical Association, Missouri Veterinary Medical Association, and served as a board member for the Greater St. Louis Veterinary Medical Association for three years. She enjoys being involved in the community through volunteer and outreach activities.
Originally from Quincy, Illinois, Dr. Stice now resides in St. Louis with her husband, David, and their baby boy. They are lucky enough to share their home with some wonderful furry family members: a boxer/dalmatian mix named Dolce, and three charming cats named Kiba, Churchill, and Toes. When not at work, Dr. Stice enjoys spending time with her family and friends, reading, watching scary movies, and making up songs about her pets.