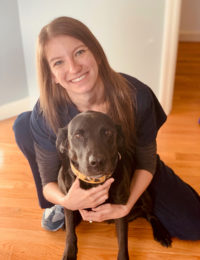 Dr. Fridman was born in 1989 in Gomel, Belarus and came to St. Louis in 1996. She went to vet school at the University of Missouri in Columbia, graduating in 2014.
She gained valuable experience working in the St. Louis area of both Illinois and Missouri before joining the Brentwood Animal Hospital team at the beginning of 2019. She is passionate about preventative medicine and client education with a goal of helping pets live their longest and happiest lives. She is Fear Free Certified and a member of both AVMA and MVMA.
She lives with her husband Corey and a black lab mix named Apollo. Dr. Fridman is a homebody who loves reading and relaxing at home, but also enjoys outdoor activities such as fishing, hiking and kayaking, as well as enjoying the great food scene of St. Louis with her husband and friends.