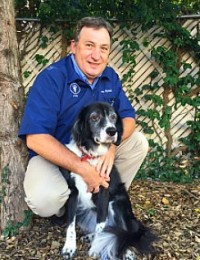 Originally from St. Louis, Dr. Ryterski graduated cum laude in 1983 from the University of Missouri College of Veterinary Medicine. After graduation, he worked two years in a rural practice in Southern Illinois before relocating back to St. Louis where he began work at our affiliated practice Grantview Animal Hospital. In 1989, Dr. Ryterski moved to Brentwood Animal Hospital to manage operations upon the retirement of founder, Dr. Tom Shore.
Dr. Ryterski professional interests include orthopedic and soft tissue surgery, dermatology, and internal medicine. He is a member of the American Veterinary Medical Association, Missouri Veterinary Medical Association, Greater St. Louis Veterinary Medical Association, American Animal Hospital Association, and Phi Zeta Veterinary Honor Society and was chosen as one of St. Louis' Top Veterinarians by St. Louis Magazine (December 2010).
Dr. Ryterski is married to Dr. Sherry Headrick, who practiced Veterinary Rehabilitation and Acupuncture at Brentwood Animal Hospital. They have two children, Bob and Claire. The furry members of the Ryterski household consist of one dog, Peanut, and two cats, Cookie and Remy. As of February 1, 2021, Dr. Ryterski performs surgical procedures two days per week, but no longer sees routine appointments. He is looking forward to having additional free time to enjoy the outdoors, fish, and collect and restore antique farm tractors.